My RC Isn't Displaying Telemetry Data
I'm not seeing telemetry data in my RC
The remote controls (RC) included with the Iris+ and the X8+ display telemetry data on the controller's screen.
In order to access to the telemetry data screen on the remote control, press the DN button.
If that does not work, check the Battery connection
Is the vehicle powered with the main battery?
Confirm the RC communication
If there is no communication between the vehicle and the remote control, there won't be telemetry data on the RC either.
1. Check the connection of the cable coming out of the remote control (RC) to the port of the DJT module at the back of the RC. You can try to disconnect and reconnect it.
2. Check the connection of the cable connected from the Pixhawk's TELE 2 port to the receiver. It must be properly inserted.
The vehicle has a configuration to send the telemetry information to the remote control, you can reload that configuration using Mission Planner or APM Planner. The video below will show you how to perform that action. The video loads Iris+ parameters, if you have a X8+, select the X8+ parameters.
RC telemetry configuration
It is possible that the telemetry configuration is not properly configured.
To check these settings:
1  Press EXIT to exit the 3DR Logo
2  Press/Hold "-" button
3  Navigate screens, to 10 page of 10
4  Compare and adjust settings to match the screen shot below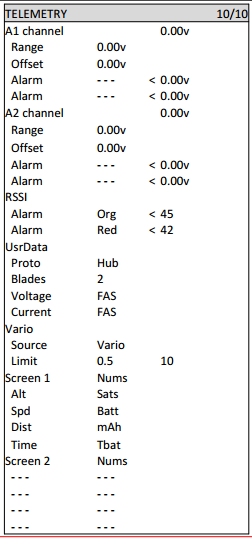 More details on this guide on page 16.
If none of the above works, there may be another factor affecting the telemetry data on the RC.
-Open a ticket at help@3drobotics.com
-Provide contact info